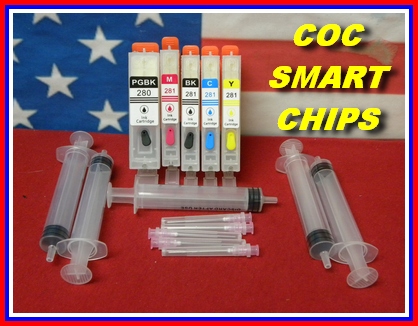 Refillable Ink Cartridges for any Canon Printer that use the PGI 280, CLI 281 cartridges
SANITIZED FOR EDIBLE INK
Compatible With TR8620, TR8620a, TR8622, TR8622a, TR8520, TR7520, TS9520, TS9520C, TS702, TS702a TS5020, TS6120, TS6220, TS6320
1 - Complete 5 Color Set of Clear Empty Refillable Cartridges with XXL COC Smart Chips Installed.
1 - PG Black
1 - Yellow
1 - Cyan
1 - Magenta
1 - BK Black
5 - Refilling Clips
1 - Color Photo Instructions Included
1 - Set Of Refill Syringes and Refill Tips
XXL PGI 280 Black Cartridge Holds 25mls of Ink
XXL CLI 281 Color Cartridges Hold 12 mls of Ink
No chip resetter is required

A Set of Canon XXL Cartridges cost $ 142.75

*** How our new COC Smart chip works. When the ink level goes down and shows the red X you will turn off the ink monitor, which will allow you to print unlimited. You can fill the cartridges at any time. Simple and Easy!