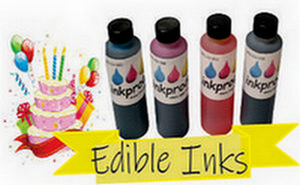 4 - 130 ML Bottles Of Color Ultra Pro True Color Edible Inks

Compatible Edible Ink Pack For Refilling Epson and Tank Printers

No ICC profiling required.
Certified American Made Ink. Matches the original manufactures ink.
Our ink will never clog a print head Guaranteed!
No tools or instructions are supplied with this product

Our Edible Inks for Printing are specially designed for Epson and Tank Printers. Add color onto various confectionery products such as Edible paper, cookies, cakes and pastries, obtaining brilliant and bright colors with excellent visual results.

All our Edible Inks are Kosher Certified. Inkproducts ultra-premium Edible ink is Made in the USA for outstanding quality and performance you can count on.

Our Inks are Gluten Free. Contains No Wheat, Milk, Eggs, Peanuts, Tree Nuts, Soybeans, Fish and Shellfish.