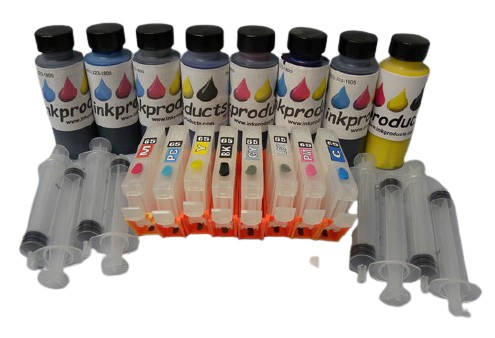 KIT INCLUDES:
1 Set of Refillable cartridges. It makes refilling simple and easy.

Refill clips can be used on our cartridges or the Canon cartridges when refilling.

( Great for storing the cartridges after refilling.

8 - 70 ml bottles of QEM Quality Ultra Pro True Color Ink Magenta, Cyan, Black, Yellow, Gray, LT. Gray, Photo Magenta, Photo Cyan. A 70ml bottle of ink can fill a cartridge over 8 times.
8 - Refill Syringes and Refill Tips
* CUSTOMER MUST USE THE CANON CHIP OF THE CANON CARTRIDGE. YOU CAN USE THE CHIPS OF THE CARTRIDGE THAT CAME WITH THE PRINTER. OUR REFILL INSTRUCTIONS WILL SHOW HOW TO TURN OFF THE INK MONITOR.