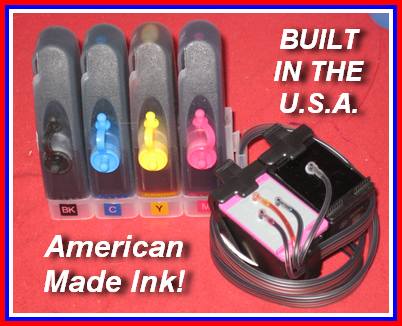 NOT AVAILABLE FOR DESKJET SERIES
CIS Ink Supply System With New HP XL 65 Cartridges

Has an isobaric air chamber to balance the proper air and ink supply to the print head
Pre-filled System with 400

mls

of ink Ultra Pro True Color Ink, Magenta, Cyan, Yellow, Pigment Black (waterproof black ink)
Built with brand new XL HP 65 cartridges installed and primed. Our design allows for the replacement of a cartridge should

anyone

fail.
Set of Snap & Vac Tools for the color and black cartridges.
1 Set of storage clips to store your old cartridges
All necessary tools parts to install the system

** Ink levels will not reset to full. This is not needed with an ink system.
YOU MUST ADD YOUR MODEL NUMBER TO GET THE CORRECT INSTALL HOSE BRACKETS.
Save hundreds of dollars!