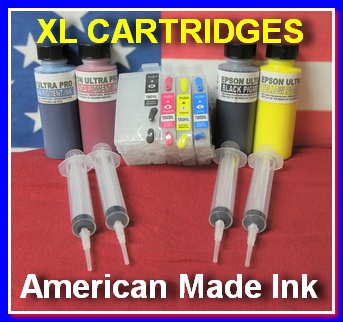 Works with all Firmwares !!
4 - 70 ml bottles of Compatible Ultra Pro Pigment Ink, Cyan, Magenta, Yellow, Black
3 - Empty XL 127 Color Compatible Refillable Cartridges
1 - XL 127 Black Compatible Refillable Cartridge
4 - Refill injectors with safety refill tips
COC Smart Chips™ Installed, Reset Ink Level Bach To Full
No chip resetter Required
No Need to remove any plastic or modify the printer
This makes refilling simple and Easy!
Ultra Pro dye sublimation ink. Resin encapsulation making it better than the traditional Pigment inks. Our ink gives you the superior image quality you need and exceptional quality.