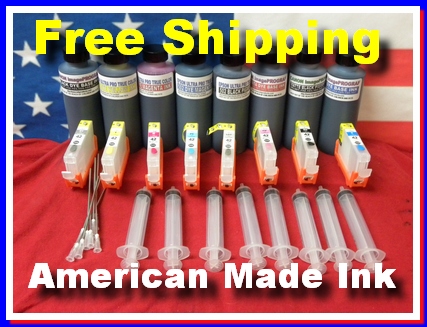 Ink Refill Kit For Canon Pro 100 Printer With Refillable Cartridges and Ultra Pro True Color Ink
KIT INCLUDES:
1 Sets of Clear Refillable cartridges with COC Smart Chips™. Makes refilling simple and easy.

Refill clips can be used on our cartridges or the Canon cartridges when refilling. ( Great for storing the cartridges after refilling.

8 - 70 ml bottles of QEM Quality Ultra Pro True Color Ink Magenta, Cyan, Black, Yellow, Gray, LT. Gray, Photo Magenta, Photo Cyan. A 70ml bottle of ink can fill a cartridge over 8 times.
8 - Refill Syringes and Refill Tips
CUSTOMER MUST TURN OFF THE CANON INK MONITOR WHEN IT SHOWS THE RED X TO KEEP USING THE CARTRIDGES!
No chip resetter required.