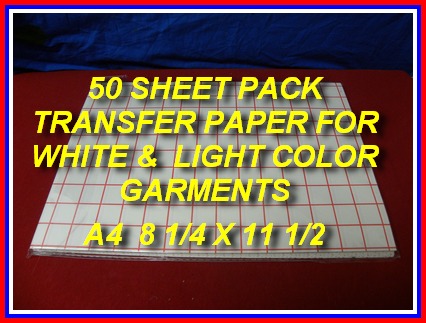 True Color Inkjet Heat Transfer Paper For White, Light Color Garments
A4 50 Sheet Pack 8 1/4 X 11 1/2
Print vivid and richly printed custom design t-shirts with the inkjet printable Red Grid heat transfer paper. Red Our transfer paper is incredibly easy to print and apply and can even be applied with a conventional home iron! With the ability to reproduce beautifully brilliant color to your finished item, Red Grid is the perfect choice for promotional product prints and creating custom designed t-shirts.. Our Red Grid heat transfer paper can also be trimmed with a vinyl cutter for an ultra-soft and an even more professional print result!
Features:
Our Inkjet printable heat transfer paper is for white and light color t shirts
It transfers incredibly bright color for the perfect custom t-shirt, coaster, tote any other printing to apparel or fabric!
Can be applied to 100% cotton, polyester, or blend fabric types of white/light color
Specifications:
For pigment based inkjet printers - not compatible with thermal inkjet printers
Dye based inks can bleed when washed.
Can be applied with heat press or conventional home iron -- for the best, most durable results, we highly recommend heat press application
Due to the internal feed/pinch rollers of various machines, certain printing or processes can be damaging to the sensitive transfer coating. We cannot guarantee that this paper will run through every model of printer/cutter equipment, and highly recommend using a sample prior to committing to any production.
Heat transfer paper with proper storage (cool, dark, sealed location) typically has a shelf life of one year
We encourage our customers to test the product before purchasing large quantities -