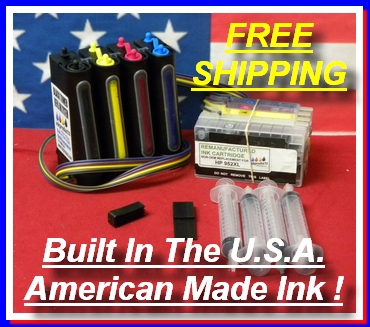 Our New CIS Refill System.
Officejet Pro: 8200, 8210, 8216, 8218

Photo instructions will help guide you through the setup

The system comes with our new COC Smart Intelligent chip™ works with HP firmware

1 - 400 ml Pre-filled Ink System with our Ultra Pro Pigment Ink™, Black, Magenta, Cyan, Yellow ( waterproof ink )

4 - Syringes and Tip

CIS Refill System is equal to buying 2 or more sets of HP 952 XL cartridges at a cost of $280.00
The CIS ink system is placed outside of the printer, only the cartridges that come with it will go to your printer. The Ink system will supply ink to the cartridges. When the ink tank supply bottles run low just add more ink it's that simple. No more messy refilling! By buying bottles of ink, the savings are awesome.