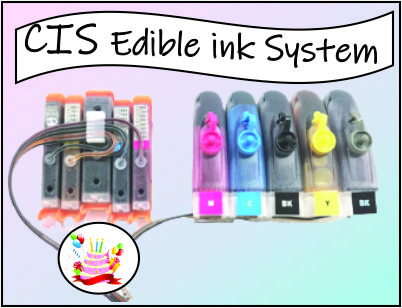 New Designed Rocket Bottle CIS Auto Refill Ink System™

Replaces Black Tower CIS

All systems are P

re-Filled with Ultra True Color Edible

ink

. OEM Quality ink that will never clog the print head.
Easy to see Ink levels

Our New UV Rocket Bottles protect against light and dust.

Rocket Bottles have an isobaric air chamber to balance the proper air and ink supply to the printhead
*** CIS cartridges with COC smart chips installed. Never Change the Chip!
The ink systems come complete with easy-to-follow instructions.
Included in all our systems are the accessories needed to successfully install the ink system.

A Set of Canon XXL Cartridges cost $ 142.95. Our

CIS Ink Tank System is equal to buying 6 sets of XXL cartridges at a cost of $ 857.75
Save hundreds of dollars!
*** How our new COC Smart chip works. When the ink level goes down and shows the red X you will turn off the ink monitor, which will allow you to print unlimited.