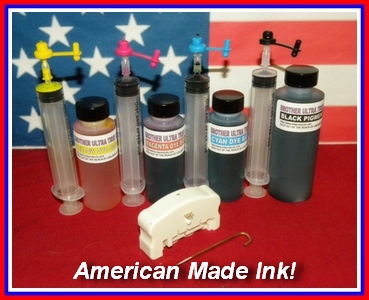 Compatible Refill Kit That Works!
Ink Refill Kit For Brother Printers That Use The LC101, LC102, LC103, LC107 Cartridges, Includes Chip Resetter
Compatible with: Brother DCP-J152W, MFC-J245, MFC-J285DW, MFC-J4310DW, MFC-J4410DW, MFC-J450DW, MFC-J4510DW, MFC-J4610DW, MFC-J470DW, MFC-J4710DW, MFC-J475DW, MFC-J650DW, MFC-J6520DW, MFC-J6720DW, MFC-J6920DW, MFC-J870DW, MFC-J875DW,
1 - 70 MLS Yellow, Cyan, Magenta Ultra Pro Ink
1 - 130 MLS of Ultra True Color Pigment Black ink ( waterproof ink )
1 - Chip Resetter for Brother Original Cartridge Chips
4 - Syringes with refill tips for filling the cartridges.
1 - Cartridge Cap Removal Key
Includes step by step color photo instructions.