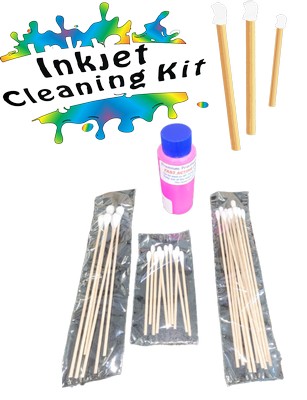 70 MLS of Cleaning Solution along with 30 cleaning swabs
To have your print head cleaned by a repair tech it can
costed
$65 dollars or more. Now you can clean the print head by yourself.
Beware all cleaning solutions are not the same!
The cleaning solution used in our kit was tested on many clogged print heads with amazing results.
Our cleaner dissolves dried ink particles.

70 MLS of cleaning solution

30 - Cleaning Swabs 10 - 3"L X 5mm Diameter, 14 - 6" L X 5mm Diameter and 6 - 6"L X 8.5mm Diameter
Another Success Story:
Recently, after printing over 750 full-color handbills (using multiple reloads of your color inks), my yellow ink stopped squirting. I did not notice it at first, because my attention was diverted elsewhere. When I did notice it, I tried a color printhead cleaning cycle. Still no yellow. Since this printhead was one that I had resurrected using your cleaning solution and video instructions, I did not hesitate to attack the unclogging action myself. I stripped the printhead carriage down to expose the inlet spuds, and worked magic with the cleaning solution, applying it with both positive and negative pressure to the yellow only. It worked perfectly. THANK YOU. Another printer saved! NOTE: This time, I did not have to totally disassemble and remove the printhead.